Hello Allied Emergency Services community! We've seen a surge of extreme weather conditions in the Midwest recently, and as your trusted partner in home restoration, we want to keep you informed and prepared. Let's take a closer look at the recent weather events and their impact on homes in the area.
Midwest's Fury: Hail, Tornadoes, and Winds
On August 6, 2023, Mother Nature showcased her might with unpredictable weather patterns across the Midwest region. These extreme conditions significantly affected homes and communities. Our team has compiled data to give you a clearer understanding:
94,158 homes fell within the swath of the storm.
Maximum hail size detected was 2″.
Breakdown By Area:
Champaign, IL Area – 27,393 homes within swath.
Springfield, IL Area – 23,613 homes within swath.
SPC Storm Reports for 8/6/2023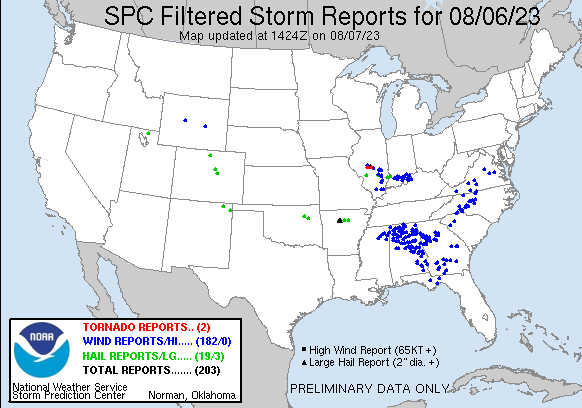 To emphasize the severity of the situation, here's a summary of the reports provided by the Storm Prediction Center:
Tornado Reports:
At 23:10, a tornado touched down 3 miles southwest of New City, in Sangamon County, specifically 2 ENE Glenarm.
By 23:46, several homes and garages were damaged along 1600 East Road, 3 NE Taylorville in Christian County. Trees and power poles in the area were also snapped.
Hail Reports:
Hail can cause significant damage, especially when reaching the sizes that were reported.
At 23:33, Sangamon County, particularly 5 S Rochester, reported 1″ hail.
At 23:50, 7 N Taylorville in Christian County experienced an alarming 2″ hail.
Other areas like Edgewood, Staunton, and Bridgeport also witnessed hail, ranging from 1.25″ to 1.75″.
Wind Reports:
Wind damage can be equally destructive, leading to uprooted trees, downed power lines, and roof damage. Notable incidents include:
23:15 – An outbuilding was damaged, and trees were blown over near Cardinal Hill Road and Zion Road, Sangamon County.
00:08 – Large trees and power lines were blown down in Assumption, Christian County.
Other areas like Mason, Ingraham, Neoga, and Ridgway also reported significant wind damages.
How Allied Emergency Services Can Help
We understand that these conditions can be terrifying, especially when your home is at risk. Whether it's damage from hail, tornadoes, or high winds, Allied Emergency Services specializes in roofing, siding, and window repairs and replacements.
#ProtectYourHome – If you've experienced any damage or just want an inspection, please reach out to us. Our local experts are here to help you rebuild and restore.
#StaySafeMidwest – Always monitor local weather channels and alerts. When a storm hits, your safety is paramount.
#AlliedCares – Our mission is more than repairs. We're a part of the community and are here to support you through thick and thin.
In Conclusion
The Midwest weather can be unpredictable, but with preparation, awareness, and a trusted partner like Allied Emergency Services, you can navigate these storms. Stay safe, stay informed, and remember that we're just a call away.